Renovation projects can be daunting. Those with unusual engineering challenges, elaborate period cabinetry and finishes, or complex integration of new systems with old construction can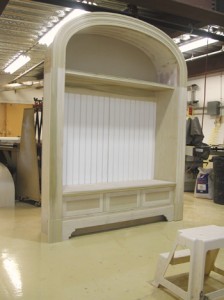 easily go wrong, when a contractor doesn't have the experience or integrity to do the job right, and stand behind his work. Bortell/Stroud Associates has remodeled every kind of home. Derek has seen it all, and knows from experience what materials work best, what techniques stand up to New England weather, and how to add superior value to your home.
Do you want your new deck to be installed with no visible fasteners? Need a built-in wall unit finished with modern stains and paints to precisely match existing antique furniture? Looking to replace rotted exterior design elements with durable, new elements that precisely re-create the old look, but using the latest long-lasting materials? Want to install a radiant hydronic heating system in your antique master bathroom with no compromises on either the look, or the performance? These are just a few examples of the kind of sophisticated renovation work that make Bortell/Stroud Associates the choice of the most discerning clients.
Derek's experienced eye doesn't miss the details, and Bortell/Stroud doesn't compromise or cut corners. If wall outlets aren't exactly in the right locations, the electrical subcontractor gets to reposition them. If there are inconsistencies in a plaster wall, the plastering team fixes them. At the end of any project there is always a "punch list" of little things that need to be finished or corrected. Derek makes the punch list, finding the little things that separate a superb job from a merely excellent one – of course, handling any issues you find as well.
Once you're a Bortell/Stroud customer, you're a customer for life. Our workmanship is unconditionally guaranteed for 3 years after a project is complete. Need to change something? See a problem with work we've done? Call us and we're there to make sure your renovation continues to bring you pleasure and pride in your home.