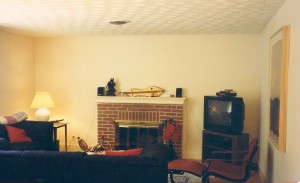 Back in the late 1940s, the shoreline of the Mystic Lakes in Arlington was the playground of post-war suburbanites building simple ranches and colonials set back from the water up a steep slope. One such home was purchased in the mid-1990s by a couple with both the vision and will to turn a tired, two-story mid-century house into a showplace with expansive lake views and an eclectic, open plan design. When I first met Rich and Kate Sands, they had been in their new home for a little over a year, and had hired a talented, unassuming architect to help them realize their dream home. The house itself was cut up into a number of small rooms with low ceilings, a kitchen straight from the Donna Reed show, and bathrooms and finishes that screamed "early 60s". Their architect had come up with a plan to gut the 2000 sq. ft. main floor to the studs, remove the ceiling and attic to create an open, cathedral-ceiling space encompassing the living room, dining room, kitchen and sun porch, combine two bedrooms and bathrooms into a single master suite, and add a small foyer and powder room addition to the front of the house. We got off to a rocky start - the architect had made a mistake in his drawings for the new foyer, and the roof didn't line up with the foundation. Oops! An honest mistake, and one both of us probably should have caught, but the concrete was poured before either of us noticed. The architect was mortified and offered to absorb any cost of rework. I knew that with just a little extra wood I could cantilever the new addition's roof. This is the kind of problem that happens in any project. I just handled it, no extra charges. The benefits in good will and building trust outweighed the small extra cost many times over - we were all a team working together to solve problems and create something special!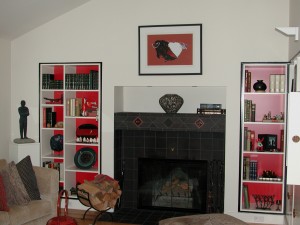 When you remove the ceiling joists from a house, the walls lose one of their critical supporting components, and the downward force of the roof no longer can be borne by the exterior walls. We needed to transfer the weight of the whole roof from the outer walls to the center load-bearing wall somehow. But the center of the roof was 16 inches offset from that load-bearing wall! After careful engineering assessment and planning by my engineering subcontractor, we raised a 10-inch thick laminated wood beam up to the peak of the ceiling, attached the roof to that beam, and then rested the beam on a pair of "shear walls" - rigid columns built from diagonal layered studs and thick plywood sheets that transferred the weight down and 16 inches west, to rest on the center load-bearing wall. With the roof supported, we could cut out the ceiling joists, transforming this lowly little mid-century raised ranch into a dramatic contemporary home. It is amazing what a really talented architect, clients with vision and taste, and a committed contractor can do in transforming an old home with good bones into something extraordinary!
Since that first renovation, I've been back to their home many times to continue the transformation. I poured a massive reinforced concr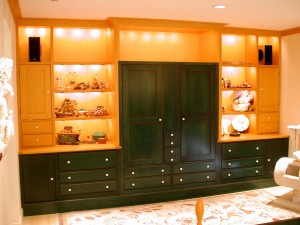 ete retaining wall behind the house to hold it on the  slope, support their sun room, and allow the owners to transform their landscape without worrying about the structural integrity of their home. I renovated the entire lower floor, raising the ceilings and moving walls and utilities to make a cramped basement into a spacious, modern family room. In a second wave of renovation to their master suite, I turned their existing Grange french country armoire into a dramatic hunter green and tiger maple wall unit perfectly matching their bedroom furniture, and including a clothes chute that drops their laundry directly into their downstairs laundry room! We added a unique "belt course" trim band made of Azek plastic around the whole exterior, and a dramatic
angled, cantilevered deck high up over the Mystic Lake engineered from a combination of structural steel, framing timbers, and Ipe decking laid using a hidden biscuit fastener system. Through it all, my clients and I have forged a long-lasting professional relationship and friendship whose basis is trust.
When I say that once you're a Bortell/Stroud customer, you're a customer for life - this is what I mean!
(Click the last picture for a slide show of this project)